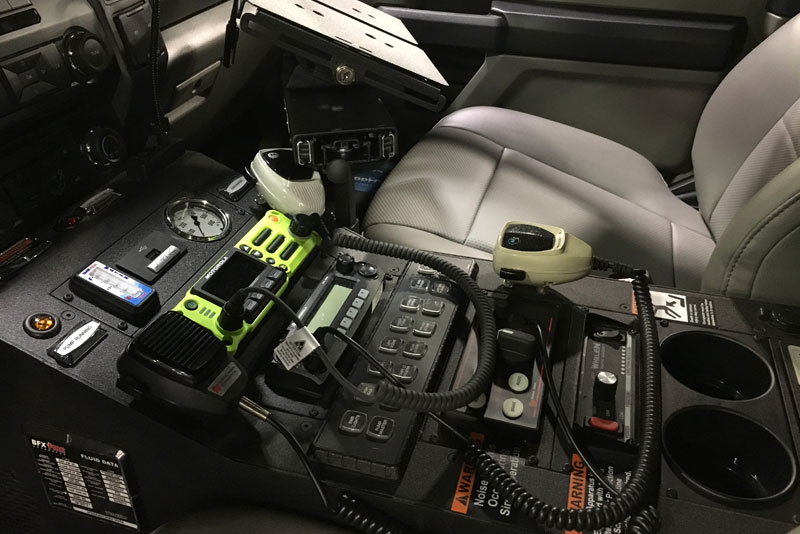 BFX Fire Apparatus objectives have been the same since production began many years ago. Build the highest quality fire apparatus trucks and type-6 wildland engines possible while providing our customers with modern, reliable components. Our electrical department takes no exception to this and a recent note from a communications dealer/service provider recognizes this commitment. BFX would also like to thank our electrical department team, headed up by Electrical Engineer, Mike Melanson for their continued efforts to these foundational objectives.
"I wanted to take a quick minute to say Thank You for an outstanding job on the equipment consoles and wiring of the government vehicles.

We are a BK Technologies Dealer for sales and service of the portable and mobile radios. We also do the installations of mobile radios for a large variety of private, municipal and government agencies. Over the past years, we have seen several vehicles that have been "built" by other companies and prewired for lights and radios. Up until last week, I have always had to do all of the wirings from scratch due to how those other companies wired the radios lines. I have also had to repair or replace antenna lines due to poor workmanship.

Last week I had the pleasure of installing two radios into a new BIA RAM 2500 that had the console, lighting, and wiring pre-installed by BFX. It was an absolute pleasure and a joy tracing the wiring to find it was done correctly. For the first time, I did not have to rewire the unit. All of the wirings were very neat, secured, and marked. Most radio manufacturers want the radio to be wired to a "clean" power source. This means the "hot" comes off the battery with the correct gauge wire directly to a fuse or circuit breaker, then straight to the radio with NO other electronics running on that line, and the ground is a good chassis ground. You have done it!

Thank you for your attention to the important details of the radio installation."

Jeff Clark
We lead the industry in providing reliable, quality vehicles and we are driven to exceed expectations no matter what environment you are in. Contact us today and let us show you why our products will meet and exceed all of your requirements.