BFX Fire Apparatus Supports Firefighter Demolition Derby
Written by BFX Fire,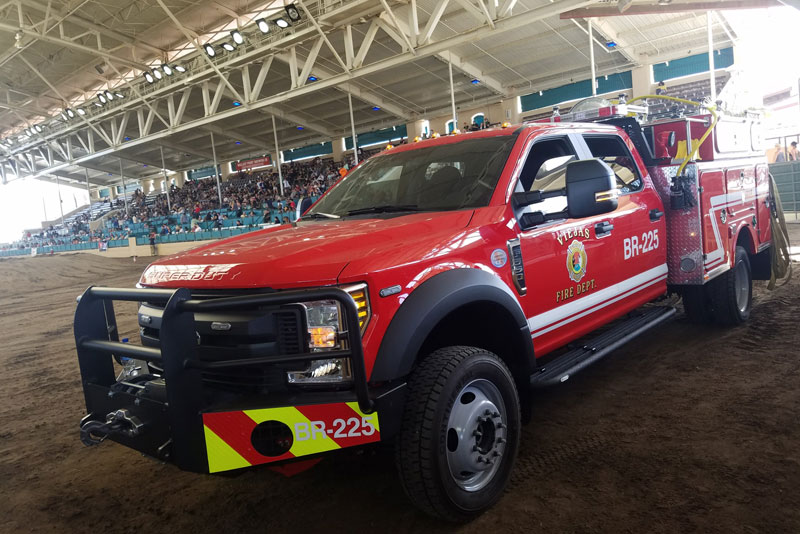 We had the privilege to support the Burn Institute this year by sponsoring Team Viejas in the 28th Annual Fire & Safety Expo and Firefighter Demolition Derby at the Del Mar Fairgrounds. The day included a parade of fire trucks, exhibits, local fire and safety demonstrations, and a vehicle extraction. There was also a packed-out demolition derby featuring 19 teams from 15 local fire departments. Donations to this event help provide vital fire and burn prevention education and burn survivor support services to San Diego and Imperial Counties. This year the Burn Institute will be welcoming nearly 50 young burn survivors to a week-long, free summer camp program, Camp Beyond the Scars.
We were proud to receive the following letter from Bob Pfohl, Fire Chief of the Viejas Fire Department:
"On behalf of the Viejas Fire Department, I would like to extend my sincere gratitude for your generous donation to the Burn Institute in support of the Annual Firefighter Demolition Derby at the San Diego County Fair. This year's Derby was a resounding success! Not only on the track but off the track, as well! With your wonderful contribution, the Viejas Fire Department raised $13,705 for the Burn Institute and came in second place in donations! Being a small Fire Department, with a single station, competing with 18 other Fire Departments in San Diego County, THAT is a tremendous feat! And we could not have done it without you!

We are also very proud the car we entered, with Firefighter Brandon Massey as driver, came in third place overall for the entire competition! That makes two remarkable accomplishments!

While we enjoy the excitement and camaraderie of the Demolition Derby and a day with the public, we never lose sight of the reasons why we take part in this event. Donations such as yours provide funds to send young burn survivors to burn camp and allow the Burn Institute to continue with education, research, and support programs in San Diego County. Your sponsorship has helped to make our community better and stronger.

Words alone can never convey our deep appreciation for your donations. We are humbled by your kind contribution and thank you so very much for supporting the Viejas Fire Department in a worthwhile endeavor for an amazing, great cause."